Hardwood Flooring
Hardwood Flooring
---
There's nothing like a hardwood floor for natural beauty and warmth, ease of cleaning, durability, and the long-term value it adds to your home. Hardwood lends character and charm to any room in your home, and best of all - it never goes out of style. Choose from our rich variety, including exotic as well as homegrown favorites for elegant or casual settings.
Hardwood Flooring is made in many variations that affect moisture-resistance, ease of maintenance, and impact- and scratch-resistant properties. Hardwood Flooring is more flexible than you may think.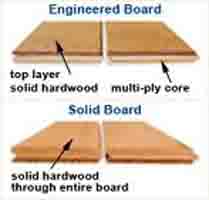 There are two types of hardwood flooring. With solid hardwood the planks are made with one solid piece of wood while engineered hardwood are made up of 3-12 layers that are cross layered and bonded together. Engineered hardwoods are harder, denser, and more resistant to moisture. Some engineered hardwoods are made using an inner core of recycled wood fiber which also makes them eco-friendly.